COVID-19 impact on Global Air Purification System Market 2020-2025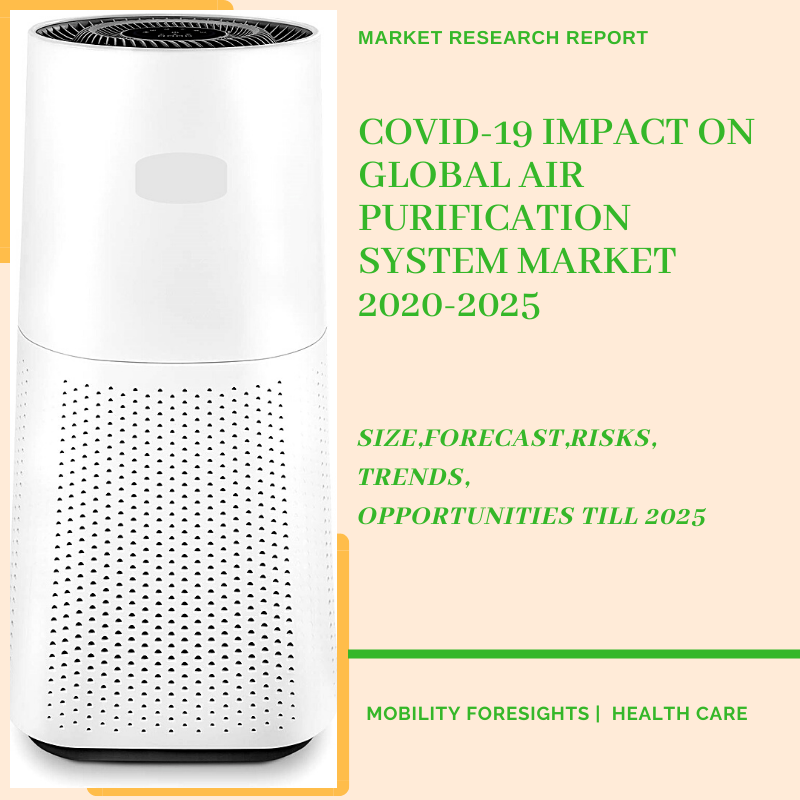 The Global Air Purification System Market is expected to grow at double digits due to COVID-19 impact. Asia will be the biggest volume driver
Key contents of the Global Air Purification System Market report include
Market size & Forecast segmented by region, technology type, application
Technology trends in Air Purification System Market, average B-2-B margin by region
COVID-19 impact on Air Purification System Market
Key features in high demand
Competitive landscape, market share and growth strategy of leading vendors
KEY FINDINGS
Due to COVID-19, Residential application segment has seen unprecedented demand is due to high awareness over indoor air quality. Asia is expected to be the leading region for Air purifier demand in 2020-2025
Among the top 5 buying criteria for Purifier customers, filter replacement interval and cost are on top of the list, followed by range and smartphone connectivity
Electrostatic precipitator technology is expected to gain share in the future. This tech has distinct advantage over others as it can handle higher volume of gas and heavy dust loads
In India, Air purifier market before COVID-19 was a cyclical market as sales were higher only in the winter season in key markets like Delhi but now there has been a growing demand for air purifiers across India
HEPA technology remains the market leader in filter technology for Residential application
Download sample- https://bit.ly/airpurfn
GLOBAL AIR PURIFICATION SYSTEM MARKET TRENDS
Portable air purifiers with smartphone connectivity and visual indoor air quality indicators have been growing in popularity across the globe
In April 2020, Dyson launched a new product which features a 3 in 1 n air purifier, humidifier and oscillating fan. The smart purifier displays when it needs to be cleaned, and it can also clean itself
Owing to higher demand and the inherent need for more innovation it is possible that their could be more than 20 new entrants in this market this year alone. For example, Komma, will introduce a compact and highly efficient air purifier on Kickstarter.
The recent(June 2020) recommendation by New York governor to all businesses and offices to explore the potential for air conditioning air filtration system could set an important trend for other developed markets across the globe
Download sample- https://bit.ly/airpurfn
COMPANY PROFILES
Camfil AB
IQAir AG
Coway Co Ltd
Mann+Hummel GmbH
Panasonic Corporation
3M Company
Sharp Corporation
Honeywell International
Alfa Laval
Daikin
Dyson
Molekule
ARIIX
RGF Environmental Group
Koninklijke Philips N.V
Blueair
THIS REPORT WILL ANSWER FOLLOWING QUESTIONS
Air Purification System Market size and Forecast (Units and $Million), by region, by application
Average commission rates for Air Purification System Market, by region
Technology trends and related opportunity for new Air purification system component suppliers
Market share of leading vendors, by region,
Coronavirus impact on Air Purification System Market earnings
Media Contact
Company Name: Mobility Foresights
Contact Person: Kunal Roy
Email: Send Email
Phone: +1-315-675-4056
Address:P3 & P4, HAL 3rd Stage 204,56/2
City: Bangalore
State: Karnataka
Country: India
Website: https://mobilityforesights.com/