COVID-19 impact on Global Automotive HVAC Market 2020-2025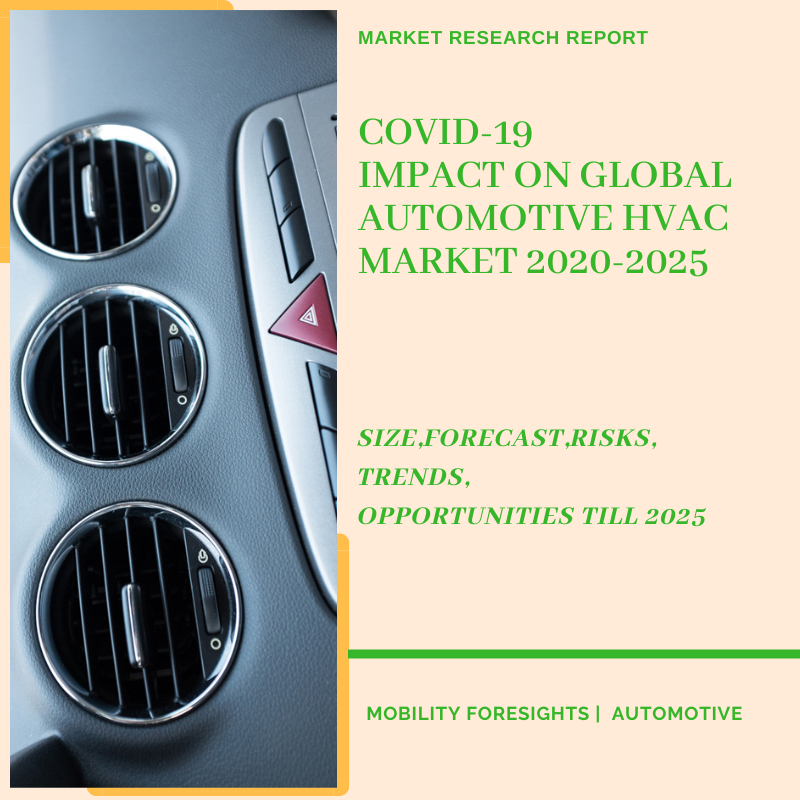 The Global Automotive HVAC Market is estimated at $21.4 Billion in 2020, growing at 5.4% CAGR till 2025. Post COVID-19 we expect many OEMs to incorporate air purifier with HVAC. The development in this segment is expected to expand the Automotive HVAC market size globally.
Key contents of the Global Automotive HVAC Market report include
Market size & Forecast segmented by region, mode of payment
Automotive HVAC Fitment, by OEM
Technology trends in Automotive HVAC market, average B-2-B price and margin by region
COVID-19 impact on Automotive HVAC market
Competitive landscape, market share and growth strategy of leading vendors
KEY FINDINGS
China is the world`s biggest automobile market (by volume) and has undoubtedly been the direct influencer on the automotive HVAC market. The COVID-19 outbreak is estimated to reduce the passenger vehicle sales by at least 19% i.e. from 21.4 million in 2019 to 17.5 million in 2020
From 2021 the Chinese market is expected to witness a linear increase in the market size owing to increased adoption of EVs in the region. The incorporation of scroll/electric compressor in EV's HVAC system will varyingly increase the price of the system by 30-40%as compared to HVAC unit comprising conventional compressor
US is the 2nd biggest auto market in the world, due to being one of the worst affected country by COVID-19 in 2020, the market will only come back to its pre-COVID-19 sales volume by 2023
US had world`s highest Automatic HVAC installation rate in 2019 of ~73%, The average HVAC Dollar content per vehicle is also highest globally
Europe is the 2nd worst affected region in the world by the COVID-19 pandemic and the subsequent impact on the auto industry is estimated to see a drop in sales by 21 % and overall volume for 2020 is predicted to be 12.5 million units
Download sample- https://bit.ly/authvac
GLOBAL AUTOMOTIVE HVAC MARKET TRENDS
The Automatic HVAC installation varies as per different vehicle segments ad well as body type in different market. For example, US pickup segment – Optional automatic ac is present in most of the trims. Vans in Japan – Automatic ac is present in almost all top-selling vans as a standard fitment
In China, Premium car sales exceeded 2 million units in 2019 and accounted for 11% of new cars sold. About 54% of them also had PM2.5 filter.
Many EU OEMs including the premium have still not included Scroll compressors on high volume platforms due to high price delta. Therefore, scroll compressor equipped HVAC units will account for less than 20% share till 2025
OEMs are now shifting HMI for HVAC back to dials and switches from touchscreen to improve driver convenience
India is still lagging behind in Automatic and Multi zone climate control fitment but in past three years, Maruti Suzuki- the market leader has started offering Automatic climate control on many high volume hatchbacks.
Download sample- https://bit.ly/authvac
COMPANY PROFILES
Denso Corporation
Mahle GmbH
Calsonic Kansei Corporation
Sanden Corporation
Keihin Corporation
Hanon Systems
Valeo
Mitsibushi Heavy Industries Ltd
Johnson Electric
THIS REPORT WILL ANSWER FOLLOWING QUESTIONS
Automotive HVAC Market size and Forecast (Users and $Million), by region, by application
Average commission rates for Automotive HVAC Market, by region, per user
Technology trends and related opportunity for new Automotive HVAC tech suppliers
OE-supplier alignment
Market share of leading vendors, by region,
Coronavirus impact on Automotive HVAC market earnings
Media Contact
Company Name: Mobility Foresights
Contact Person: Kunal Roy
Email: Send Email
Phone: +1-315-675-4056
Address:P3 & P4, HAL 3rd Stage 204,56/2
City: Bangalore
State: Karnataka
Country: India
Website: https://mobilityforesights.com/