Tangible Films & Entertainment Launches A New Drama Podcast Titled "FORTIES AF" Written, Produced, And Directed By Tanisha Quilter-Williams
FORTIES AF: A Fictional Drama Podcast That Shows There Is More To Life After The Age Forty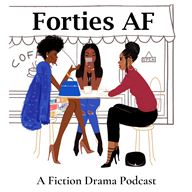 Los Angeles, California – 13th October, 2020 – Tangible Films & Entertainment, an entertainment and production company has launched the season 1 of a fiction drama podcast written, produced, and directed by Tanisha Quilter-Williams called FORTIES AF. The podcast is about the societal pressures faced by single women in their forties, how the pressures could be alleviated, and also shed light on the fact that life truly begins at forty.
Forties AF is a sassy and funny fiction drama podcast about three forty-something single friends who laugh, love and cry together; as they pick up the pieces their thirties left behind. Hope, newly forty is an entertainment reporter by night and an aspiring writer by day that recently went through a break-up with her on and off boyfriend again. Chanise, a postal carrier in her late forties, is a new empty-nester and is adjusting to her new-found freedom. Brianna is hopeless and romantic in her mid-forties. She is a hairstylist at a very popular salon and is seeking out her complete happiness. These ladies support each other as they laugh, love, and cry together.
"The passing of each year brings the weight of expectations we can't untangle from reality." Tanisha says, "society makes us feel that we have to have it all together at forty plus, and maybe we should. We're still living, growing, learning, and really, this is the best time to reinvent ourselves". She continues to say, "but someday, if not now, you're going to be Forty As F**."
Season 1 is available on all podcast listening platforms everywhere at https://linktr.ee/TangibleFilmsPresents. Episodes are also released on YouTube. Check out www.tanishaquilterwilliams.com to learn more about Tangible Films & Entertainment.
ABOUT TANGIBLE FILMS AND ENTERTAINMENT
Tangible Films and Entertainment is an entertainment firm located in California. It is founded by Tanisha Quilter-Williams who is a renowned professional in journalism, Screenwriting, and entertainment. Her childhood experience and upbringing shaped her into a woman of multifaceted character and also develop her quest for self-discovery. She once worked with CM, WMA, Inside Edition, E! Entertainment, and US Weekly where she had the opportunity to have a red-carpet interview with celebrities such as Oprah Winfrey, Catherine Zeta-Jones, Denzel Washington, and Kelsey Grammar. Tanisha played a significant part in bringing one of the major headline news stories to US Weekly magazine, covering the Levi Johnston and Bristol Palin engagement.
She left journalism in 2013 to pursue her passion for Screenwriting and went back to school to obtain her MFA in Creative Writing and hasn't looked back since then. Today, she has written and produced a fiction podcast drama titled "Forties AF." She has also obtained the rights to the first African American female horse jockey and producing a documentary. She has also signed on to co-write a book with P.I. Tank Jones from Alaska as he relives his Hollywood nights managing Levi Johnston.
For more information, visit www.tanishaquilterwilliams.com
Media Contact
Company Name: Tangible Films & Entertainment
Contact Person: Tanisha Williams
Email: Send Email
Phone: 310-430-9634
City: Los Angeles
State: California
Country: United States
Website: www.tanishaquilterwilliams.com