Introducing Leyland Blue, a startup home decor enterprise coming to the Town at Trilith, guaranteed to give homes a stylish finish.
Leyland Blue is a family-owned home decor enterprise in Fayetteville, GA. The startup company, which is set to open in the Town Center of the brand new Town at Trilith (formally known as Pinewood Forest) early next year, specializes in home furnishings, décor and women's apparel. It includes a mix of furniture, textiles, candles, and home accents.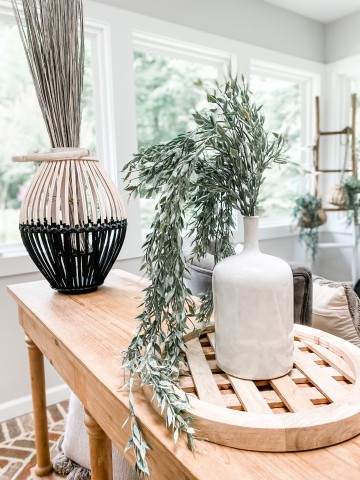 The enterprise began as a concept of owners Kaylan and Jordan Griffie, 25, in the summer of 2019. Leyland Blue became a reality when the business was officially filed and formed in December of that same year.
Kaylan Griffie, the founder, and her husband, Jordan, were high school sweethearts who shared the same passion for entrepreneurship. As a couple, it wasn't just their love for one another that had them in sync, it was also their business ideas and plans, and this ultimately gave birth to Leyland Blue. It is also worth noting that a couple of 25-year-olds starting a business during the Covid-19 pandemic and economical decrease is no small feat. The business officially opened its "doors" exclusively online in April of 2020.
Leyland Blue's name and logo are a tribute to Kaylan's late father, Jerry Kirby, whom she credits for her integrity, work ethic, motivation, and drive in the business. He had a farm that specialized in cultivating and selling a landscaping tree called the Leyland Cypress from which the company name, Leyland Blue, was derived.
As Leyland Blue was being cultivated from a long-term dream to a here-and-now reality, Kaylan and Jordan decided to partner with friend and Social Media Guru, Chelsea Robbins. Chelsea is the inventor of the baby product Bibsie™, and is also a large scale event planner and designer herself. Speaking about this decision, Kaylan said, "Chelsea's social media expertise and business experience made her an excellent addition to the Leyland Blue team". What started as Kaylan's dream has now blossomed into a reality of Kaylan, Jordan, and Chelsea's combined vision.
Leyland Blue predominantly sells products in the up and coming boho style of Home Decor. This style features fringed textiles, brass accents, all things greenery, wicker baskets and trays, natural wood tones, and bold and dark colored accent walls. "We sell primarily boho with some staple farmhouse pieces blended in", mentioned Kaylan. Leyland Blue provides consumers with the best products at the best prices.
Undoubtedly, Kaylan is witnessing her dream come true and making her dad proud with her dedication, determination, and hard work. The trio of Kaylan, Jordan, and Chelsea, still in their mid-twenties, are already set to make waves in the lively Town at Trilith in Fayetteville, Ga.
Media Contact
Company Name: Leyland Blue
Contact Person: Jordan Griffie
Email: Send Email
Phone: 6788507172
Country: United States
Website: shopleylandblue.com