CRO investor group joins Floyx project – they will support presale round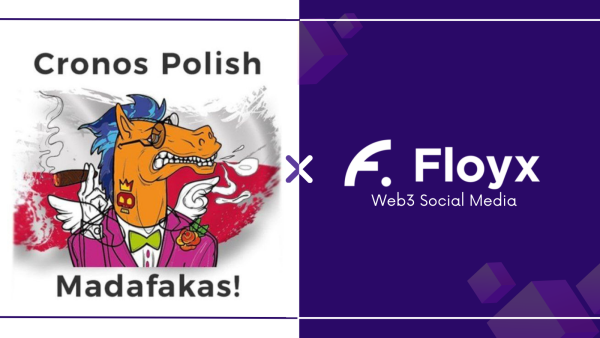 Floyx is a social media product that is developing directly in two directions.
They are building the world's first decentralized medium compatible with web3 and blockchain technology, in which the community acts as moderators and defines fake news/bots and trolls.
Each user is rewarded for his or her contribution to the community and participates in a reputation system that allows them to increase their monetization for positive (according to the community) published content.
However, web3 is not all, as Floyx is also developing the well-known web2 technology, which will soon offer many new tools for its online activity, such as the ability to add video and live streaming with a competitive system and rewarding authors. Compared to the 40% commission that YouTube charges, Floyx does not take any commission from users.
Many interesting things are still to come in 2022.
The product is currently preparing for the first public round of presale of its token.
We have received information that the company has launched a brand ambassador program, but also many groups and individual investors are arriving and starting to take an interest in the product.
Among the groups worth noting is a group called 'Cronos Polish Madafakas'.
'The group has been active during the bull market, mainly focused on Cronos projects. They also specialize in Tomb Forks, NFT, participate in projects mainly longterm, but speculatively also play against the market by taking a short position.
The group was founded relatively recently by user Zazek1987, which today already has almost 200 active investors mainly from Poland. The well-organized group is moderated by experienced traders such as Mario, and DanielSatoshi5820 who provides daily analysis, looking for suitable entry and exit points in the market. Each of the other admins and main players Bankrut92, NFSU9, KamilTom, Quithumanity, Xavix79, SentimentalBull is responsible for a different area in the group. There is also a raffle every Tuesday and Friday for group members to win CRO as well as NFT.
The group is expected to support the Floyx product during the next rounds of presale. Investors are ready to participate.
As is well known, the best projects are built during a downturn. The project's developers want to launch a DAO after the first public round, in which investors and the community will take some of the power over the entire product and help make the best decisions, both regarding the development of the platform itself and the Floyx token.
Media Contact
Company Name: Cronos Polish Madafakas
Contact Person: Mario
Email: Send Email
Country: Poland
Website: https://t.me/CronosPolishMadafakas