The compelling case for Women in Science, Technology, Engineering, and Mathematics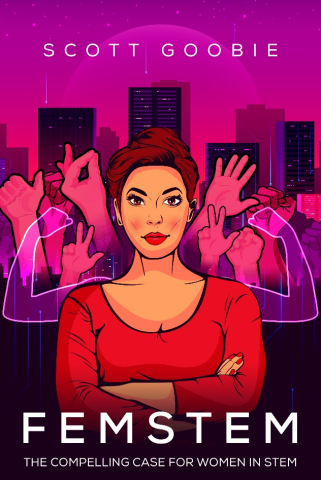 Aspiring author Scott Goobie launches his new book FemSTEM; that highlights the experiences of women in STEM fields. Since the pre-launch, the book has already garnered attention from readers interested in gender equality and diversity in STEM. The book launch on International Women's Day (March 8, 2023) is a significant milestone for the advancement of women in STEM.
The book features a compelling case and the needed steps to achieve FemSTEM, which embraces 3 significant objectives – gender equality in STEM, reduced harassment of women in STEM and a better future for humanity. It also includes personal stories from women in STEM fields. It provides insights into the challenges and triumphs that women face in these male-dominated workplaces, in industry and in academia. It also showcases the unique perspectives and experiences of women in science, technology, engineering, and mathematics. FemSTEM provides a clear path for an essential increase in the numbers of women who freely choose to pursue a STEM education and profession. It will reach young women and young men who will establish this future as well as middle age and older women and men who need to accelerate our current progress.
The book highlights the importance of mentorship and support in helping women succeed in STEM fields. It also emphasizes the need for greater diversity and inclusion in these industries, as well as the benefits of a more diverse workforce.
The stories shared in the book are inspiring and empowering, showing how women have overcome obstacles and made significant contributions to their fields. The book is a reminder of the importance of gender equality and diversity in STEM, and the need to support and encourage women to pursue careers in these fields.
"We are thrilled to launch this book and share the voices of women in STEM," said Scott Goobie, the book's author. "The stories shared in this book are powerful and provide valuable insights into the experiences of women in these industries. Our hope is that this book will inspire and empower women to pursue careers in STEM and create a more diverse and inclusive community."
Scott has more than 30 years of experience in product development. He is an SME of Aviation Sustainability and Aircraft Design and played a key technical role in a recent international Aviation Commitment on Climate Change.
Scott is a member of several International Aviation working groups, member of the US and European led General Aviation (GAMA.aero) Environmental Committee, new chair of a Canadian Aerospace (AIAC.ca) Sustainability committee and currently studies post-graduate Climate Science at a high-ranking Canadian University (UWaterloo.ca).
Scott has led the development of several aircraft, one of which recently won a Top-Flight Award from Aviation International News as the best new aircraft of 2020. He has led various IPDTs (Integrated Product Development Teams) and held a variety of engineering technical and management roles spanning 3 decades.
The book FemSTEM is available now on all major publishing platforms including Amazon, Barnes and Noble and Kindle.
For more information, see [www.scottgoobie.com] or to get more information from the author, email [[email protected]] or call [15456471385].
Available At: www.scottgoobie.com &
Amazon: https://www.amazon.com/dp/B0BXNBVFLP
Media Contact
Contact Person: Scott Goobie
Email: Send Email
Country: United States
Website: http://www.scottgoobie.com