YYC Inner City Towns Extend Their Offerings Across Calgary's New Inner City
Full-service YYC Inner City Towns licensed with CIR Realty, continue to expand their services across Calgary, offering the biggest database of Inner City builders
The team at YYC Inner City Towns led by Kamil Lalji, an experienced Calgary-based real estate professional, is relentless in delivering the best experience to home buyers and sellers as well as developers in Calgary's Inner City as the company continues to expand their reach across the region. The team specializes in Calgary's New Inner City Townhome market, providing firsthand expert-level market and product intelligence for developers to create and sell demanded real estate, essentially real estate development consulting services.
"The inner city is our bread and butter, and we love to show Buyers good quality products in desirable locations. We are a small but mighty team with extensive real estate and development experience. We prioritize genuine, long-term relationships with our Buyers in order to determine their exact wants and needs, and we also work to keep updated with market conditions and products to provide the best possible guidance to Developers." – Kamil Lalji.
YYC Inner City Towns stands out for bridging the gap between developers and property buyers, offering tons of CIR Realty listings on a user-friendly online platform. The real estate solution provider has been particularly helpful over the years, considering the difficulty for developers to identify the needs and desires of buyers, serving as the feedback loop connecting both parties. Over the years, YCC Inner City Towns has continued to work to enhance the skill, knowledge, and reputation of developers without sacrificing the satisfaction of buyers. With vast knowledge of the inner city and a team of highly experienced and well-trained real estate professionals, YCC Inner City Towns has become known for delivering consistently satisfactory results to buyers while keeping up to date with market realities to provide the best possible guidance to developers.
YYC Inner City Towns has grown over the years, due to the comprehensiveness of the solutions offered due to the different stakeholders in the market. The company offers full-service consultation, marketing, and execution strategies to property buyers and sellers, boasting of the biggest database of InnerCity builders in Calgary. YYC Inner City Towns aims to ease the decision-making process of buyers, sellers, and developers, leveraging their understanding of the market needs to deliver custom solutions to address the specific concerns of each client.
For further information about YYC Inner City Towns and the range of solutions offered, visit – https://yycinnercitytowns.com/. YYC Inner City Towns also has a growing online community across social media, including Instagram and LinkedIn.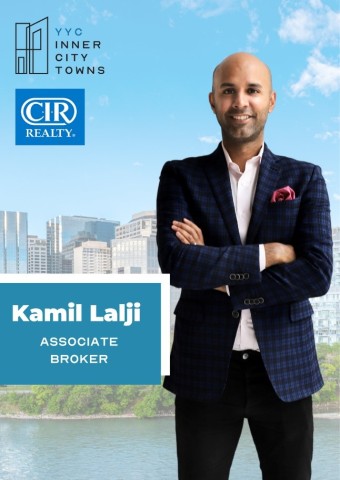 About YCC Inner City Towns
YCC Inner City Towns was founded by Kamil Lalji, a passionate real estate professional and investor to meet the needs of buyers, sellers, and developers by creating a platform that connects the different parties seamlessly. Kamil leverages his strong network of local builders, developers, agents, architects and designers to identify unique properties and deliver them to buyers while ensuring developers and sellers create or market demanded products.
Media Contact
Company Name: YYC Inner City Towns
Contact Person: Kamil Lalji
Email: Send Email
Address:#100, 707 10 AVENUE S.W.
City: Calgary
State: AB, T2R 0B3
Country: Canada
Website: https://yycinnercitytowns.com/