DNAKE Smart Central Control Screen – Neo Won 2022 Red Dot Design Award
Xiamen, China – DNAKE, an industry-leading provider of IP video intercom and smart home solutions, is honored to receive a prestigious "2022 Red Dot Design Award" for the Smart Central Control Screen. The annual contest is organized by Red Dot GmbH & Co. KG. Awards are given out each year in several categories, including product design, brands and communication design, and design concept. DNAKE's smart control panel won the award in the product design category.
Launched in 2021, the smart central control screen is only available in the Chinese market for the moment. It comprises a 7-inch panorama touchscreen and 4 customized buttons, perfectly fitting any home interior. As a smart home hub, the smart control screen combines home security, home control, video intercom, and more under one panel. You can set up different scenes and let different smart home appliances match your life. From your lights to your thermostats and everything in between, all of your home devices become smarter. What's more, with integration with video intercom, elevator control, remote unlocking, etc., it makes an all-in-one smart home system.

ABOUT RED DOT
Red Dot stands for belonging to the best in design and business. The "Red Dot Design Award", is aimed at all those who would like to distinguish their business activities through design. The distinction is based on the principle of selection and presentation. In order to appraise the diversity in the field of design in a professional manner, the award breaks down into three disciplines: the Red Dot Award: Product Design, Red Dot Award: Brands & Communication Design, and Red Dot Award: Design Concept. The products, communication projects as well as design concepts, and prototypes entered in the competition are evaluated by the Red Dot Jury. With more than 18,000 entries yearly from design professionals, companies and organizations from over 70 countries, the Red Dot Award is now one of the world's largest and most renowned design competitions.
Over 20,000 entries enter the competition of the 2022 Red Dot Design Award, but less than one percent of the nominees are awarded the recognition. DNAKE 7-inch smart central control screen-NEO was chosen as a Red Dot award winner in the Product Design category, representing that DNAKE's product is delivering the most technologically advanced and exceptional design for the customers.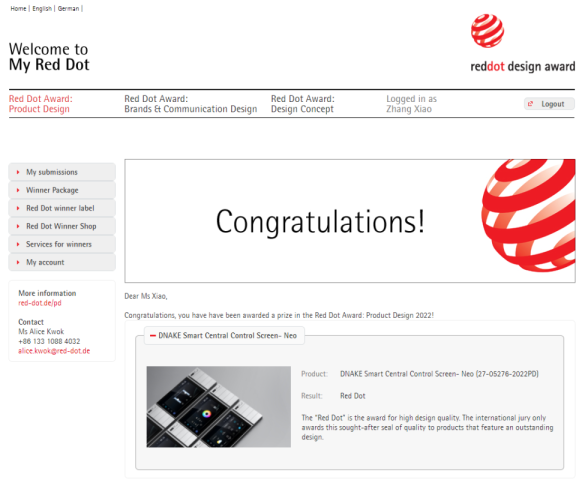 NEVER CEASE OUR PACE TO INNOVATE
All the products that have ever won the Red Dot Award have one fundamental thing in common, which is their exceptional design. A good design not only lies in the visual effects but also in the balance between aesthetics and functionality.
Since its establishment, DNAKE has continuously launched innovative products and made rapid breakthroughs in the core technologies of smart intercom and home automation, aiming to offer premium smart intercom products and future-proof solutions and bringing pleasant surprises to the users.

MORE ABOUT DNAKE
Founded in 2005, DNAKE (Stock Code: 300884) is an industry-leading and trusted provider of IP video intercom and solutions. The company deep dives into the security industry and is committed to delivering premium smart intercom products and future-proof solutions with state-of-the-art technology. Rooted in an innovation-driven spirit, DNAKE will continuously break the challenge in the industry and provide a better communication experience and secure life with a comprehensive range of products, including IP video intercom, 2-wire IP video intercom, wireless doorbell, etc.
Media Contact
Company Name: DNAKE
Email: Send Email
Phone: 86-592-5705812
Country: China
Website: https://www.dnake-global.com/