K-Pop Diva, Ailee Letting Her Fans' Fantasies Come, True Hosts, An XR Music Concert
Ailee, the undisputed K-Pop queen, will eventually present an XR concert, showcasing the opportunity to experience Ailee's music using cutting-edge augmented reality techniques.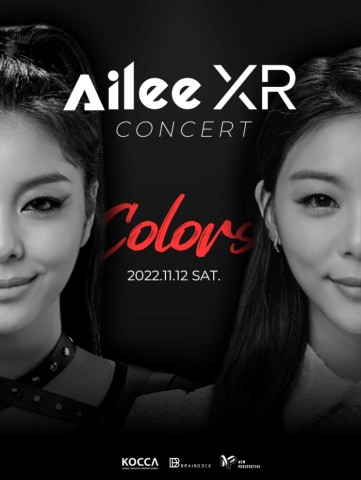 For Aileeans to engage with the model, Ailee's online performance is being set up as a metaverse concert. Ailee and Aileeans will pave the way to the Music Universe with a spectacular metaverse experience that combines the XR effect across the entire event.
The extended reality (XR) technology employed in this performance creates a vibrant and varied visual display that will give supporters the impression that they are seated in the front rows of the event. Augmented, virtual, and mixed realities are combined to form XR. Additionally, numerous kinds of incentives are available according to the pledge size.
12 Colors Project: Save the Universe
The universe is faced with an environmental crisis due to global warming and the insatiable greed of human nature leading to an age of glacial epoch losing the hope of light.
Ailee, wearing a red cloak, appears glimmeringly through the door cracks among the frozen trees of an ice forest. She walks by the cogwheel stairway and suddenly falls into the deep blue ocean.
While she is slowly immersing in the ocean, is approached by 12 different lights that wrap around her body.
Ailee and Aileeans will pave the way to the Music Universe with a spectacular metaverse experience that combines the XR effect throughout the whole performance.
Backers of the concert on Kickstarter will get the Aileean Digital ID Card, which has 1,024 different images of Ailee from the Multi Universe.
Aileeans are on a mission to help Ailee restore the fading hues of the ruined land of the cosmos as a consequence of an environmental catastrophe.
If every mission is a success, 12 distinct lights and colors representing 12 XR phases would be shown. Additionally, Aileeans who have earned a Digital ID Card are eligible to participate in the concert's pre-production.
"I can't believe it's already been 10 years," Ailee commented on September 9th, via her previous management organization THE L1VE, commemorating her 10-year debut anniversary.
Ailee expressed her gratefulness to the fans by saying, "I was fortunate to have supporters who have encouraged and loved me for a considerable time, because of which I have had such incredible days. To grow and become a better version of myself is the goal, and I always value your support and cherish you, dear supporters."
Visit Linktree right away to reserve your tickets now and find more about this K-POP Queen, Ailee.
Free Ticket giveaway Event is on until Nov. 11th and 20 selected participants will win Ailee's XR Concert ticket code on that day.
To learn more about the event and Ailee's XR Concert detail visit: https://ailee.k-popavenue.com
About Ailee
Ailee is a South Korean-American singer and songwriter born on May 30, 1989. She had already displayed and promoted her artistic skills before making her victorious launch on February 9, 2012. The artist started a band in 2006 while still a high school student and participated in underground music festivals. She performed at college events and shared her original songs for free online. Before moving to Korea, she appeared as "Ailee" in YouTube videos from 2007. On the "mzamyx3" Youtube page, which she probably started, one may hear Ailee's musical performances around fifteen years ago. Her incredible voice and talent immediately drew a sizable audience and admiration.
Media Contact
Company Name: Braindeck Inc.
Contact Person: Zoe Kim
Email: Send Email
City: Seoul
Country: South Korea
Website: braindeck.net