Transform Materials Signs Joint R&D and Facility Installation Agreement with Denka to Produce Acetylene with Zero CO2 Emissions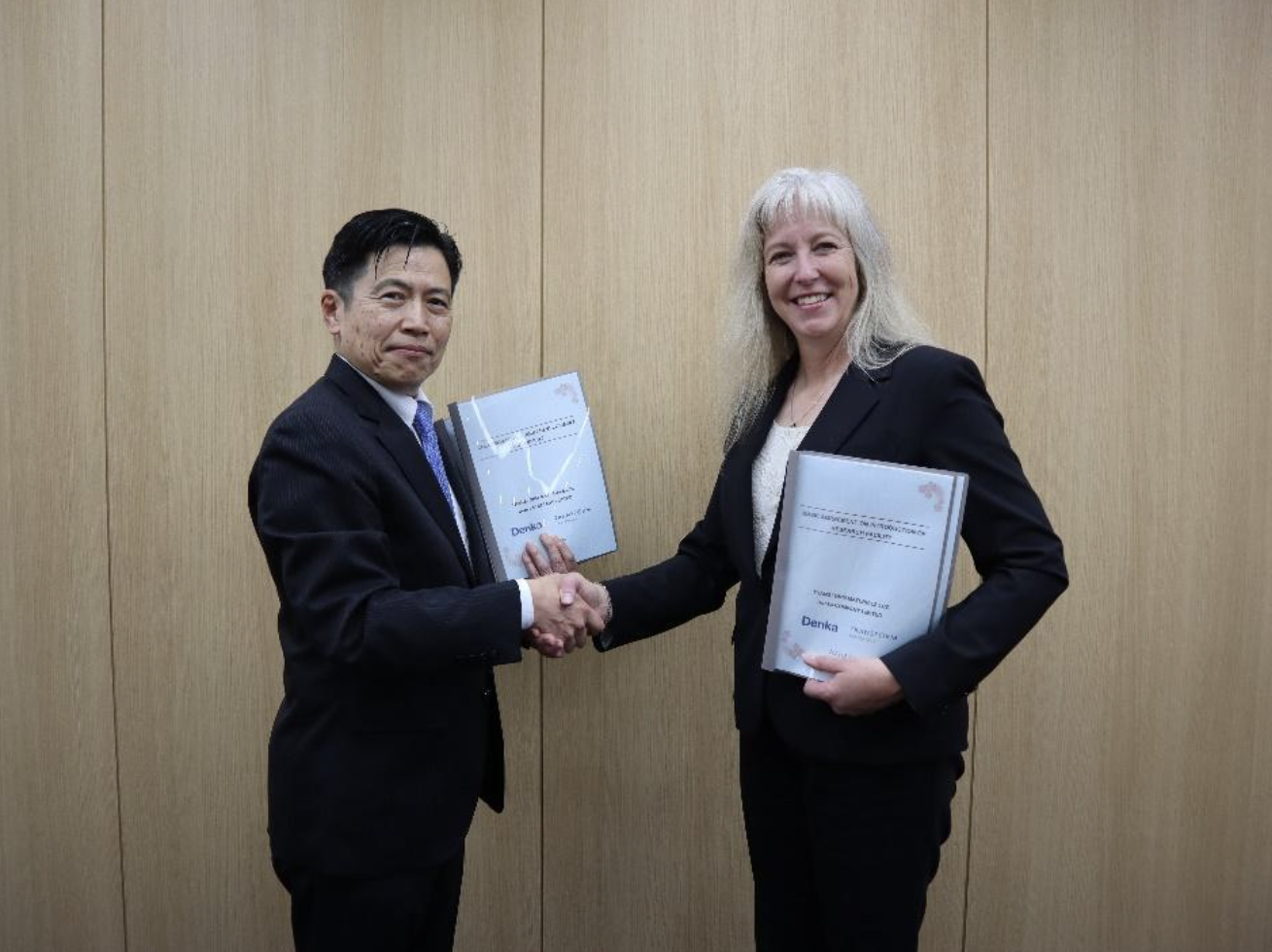 May 23 Signing Ceremony between Denka and Transform Materials
Shown here: Kazuo Takahashi, Rachelle Goebel
• Denka is accelerating its Carbon Neutrality Solutions Initiative
• Denka to install Transform Materials' microwave plasma technology
RIVIERA, FLA, and TOKYO – MAY 25, 2023 – Transform Materials LLC signed today a multi-year facility development and installation agreement with Denka Company Limited (CHUO-KU, Tokyo) to establish an on-site solution that produces the first-ever CO2 emission-free acetylene through green chemistry. As part of Mission 2030, Denka expects to make an 85-billion-yen investment (USD 623M+) to achieve a 60% (compared to 2013) reduction in CO2 emissions. Transform Materials started a multi-year commitment with Denka to help reduce CO2 emissions from the manufacture of its products.
A signing ceremony was held in Tokyo on May 23, 2023, to signify this historic moment between Denka's Representative Director Kazuo Takahashi and Transform's CEO Rachelle Goebel.
"Transform has helped us understand how microwave plasma technology makes it possible to produce acetylene gas with large volumes of hydrogen. The Project with Transform Materials is one of the most significant transformations in our company history since we started our business," said Toshio Imai, CEO of Denka. "We are always trying to change the world and society for the better by utilizing the advances in chemistry and Transform Materials' technology is attractive to achieve a reduction of CO2 and fits our process; that is why we chose Transform Materials," he added.
"We are proud to be the solution of choice for Denka, who is actively working on bending down the curve of global warming by leveraging the power of green chemistry," said Rachelle Goebel. "This is a profound step forward in realizing readily available solutions for decarbonization initiatives that transform low-value hydrocarbons into valuable materials like Acetylene and Hydrogen."
Denka will install acetylene and hydrogen production facilities based on Transform's Plasma technology at Denka's Omuta, Fukuoka Plant (Omuta City, Fukuoka Prefecture) to demonstrate and optimize the technology to realize large-scale mass production of acetylene. The multi-year agreement spans from 2023 to 2028, with plans to evolve the technology.
Under Denka's eight-year management plan "Mission 2030," which started in fiscal 2023, Denka aims to further evolve its business portfolio into "three-star businesses" with all their business segments being built upon the three pillars of "Specialty," "Megatrends," and "Sustainability." In addition, as one of Denka's non-financial KPIs, it has also set a goal of reducing CO2 emissions by 60% (compared to fiscal 2013) and is proceeding with portfolio transformation by utilizing Transform Materials' green technology and establishing a low-carbon manufacturing process.
About Denka
Denka is a comprehensive chemical manufacturer focusing on organic materials, inorganic materials, electronic materials, functional and processed products, and pharmaceuticals. Since its founding in 1915, Denka has been contributing to the development of society and earning the trust of society through manufacturing based on the chemical industry. In 2015, the company celebrated its 100th anniversary and is accelerating its global business strategy for sustainable growth in the years to come.
For more information, please visit https://www.denka.co.jp/.
About Transform
Transform Materials LLC, founded in 2014 by David Soane, Ph.D. from the University of California Berkeley, has commercialized its ground-breaking technology that uses microwave-generated plasma to energize natural gas to form acetylene and hydrogen without CO2 emissions. Transform's patented technology and systems are compact and modular, thus readily scalable for large plants or small industrial applications. Transform's on-site technology also integrates with existing systems and architecture–which minimizes adoption costs. To learn more, visit transformmaterials.com.
Source: Transform Materials LLC
Press release authentication below:
Denka press release: https://www.denka.co.jp/storage/news/pdf/1135/20230525_denka_mtoa.pdf
Transform Materials press release: https://www.transformmaterials.com/denka-joint-rd-agreement/
Media Contact
Company Name: Transform Materials LLC
Contact Person: Audrey Boyce
Email: Send Email
Country: United States
Website: www.otterpr.com